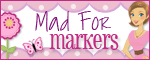 YAY! The website went up last night!!!
A Huge Thanks to
Shell Barnard
for designing the website .. including all the banners and blinkies. I love it!!
and a Huge Thanks to my wonderful DH, Guy for not only helping enter lots of data the first time but staying up last night/ this morning to re-enter it all with me when I deleted the Copic Marker section by mistake!